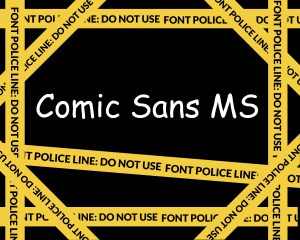 Why do people like Comic Sans?
Frivolous, childish, puerile, comical.
I was asked the other day if I could use Comic Sans on a website. I said I wasn't keen on the idea as the type of font can convey the type of message that one is trying to put across and also, I have a reputation for professionalism which I would like to keep. Fine if it's a children's website but not so fine for corporate, serious sites or sites that cater for all ages.
Personally I think the font has been heavily over used. I mean, you wouldn't want it on your gravestone would you? It also wouldn't be taken too seriously on a warning poster from the police. Nevertheless you see it used in official warning posters in doctors surgeries and police stations, local newsagents asking for home helps etc.
There is a place for Comic Sans, on children's websites, children's posters, and children's colouring books, but NOT ON MY WEBSITES so please don't ask! (Unless it's a children's website, and the bribe is huge).
For further information please visit the Comic Sans mental health hotline.